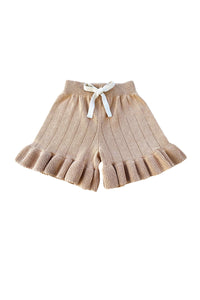 Wide-rib shorts with a ribbed frilled trim in a compact lightweight knit. Elasticated waist with tie detail.
About the yarn:
At MABLI we always use suppliers that produce safely, give value to people, eliminate toxic and harmful chemicals, consume responsibly and have a traceable and transparent supply chain:
70% Cotton 30% Linen, machine washable, Oeko-tex Standard 100 certified.
Care guide:
Machine wash on cool delicate cycle, dry flat.
Always read the care label for full instructions.